Background
Current 3D printing processes for ceramic 3D structures is conducted mainly by printing an object, which is composed of a ceramic powder and an organic binder, then sintering the body at a high temperature (>1000 °C).

The current ceramic 3D-printing processes are mainly based on inks containing ceramic particles and require utilizing an ink with a high concentration of the dispersed ceramic particles. Such inks are turbid due to light scattering, having a critical negative effect on the light-induced polymerization process. In addition, Dispersion-based inks suffer from sedimentation of the dispersed particles, thus limiting the shelf-life.
Our Innovation
A novel and facile method for printing of ceramic 3D objects at low temperature, based on polymerizable solutions which obviate the use of particulate materials.
Advantages
Increases printing layer thickness and printing ink reactivity

Enables formation of transparent or opaque ceramic 3D objects or objects made of organic/ceramic hybrids with complex geometries

Enables  tunable density and refractive indices for printed objects

Dramatically reduces the printing time

Simple and low cost process using a low-cost 3D printers at room temperature.

Enables formation of transparent objects, composed of inorganic materials such as fused silica
Technology
The new ceramic inks are composed of molecules that have both polymerizable groups (such as acrylates), ceramic forming groups (that are precursors that would lead to materials such as silica, zirconia, titania and alumina), and photoinitiators.  

The transparent or semi-transparent ink formulations do not require dispersed ceramic particles.

Upon exposure to light at proper wavelength, a hybrid organic-inorganic 3D object is formed, that may be  converted to a ceramic object by post heat treatment process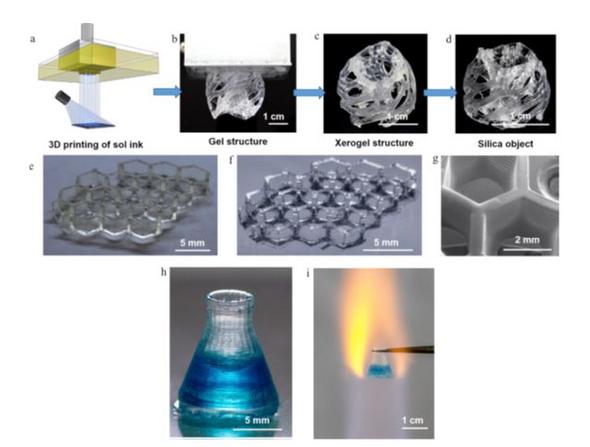 Figure 1 Scheme of the 3D printing and the obtained transparent silica glass objects, i.e., (a) printing of the sol gel ink by a DLP printer, (b−d) printed structures composed of 15 wt % S1 and 13.3 wt % of APTMS at different stages: (b) wet gel structure after printing, (c) dry structure after removal of the solvents (drying at 50 °C), (d) silica structure after burning the organic residues at 800 °C, (e−i) structures printed with ink composed of 15 wt % S1 and 5.3 wt % of APTMS that is (e) dry structure, and (f) transparent silica object after burning the organic residues at 800 °C, (g) environmental scanning electron microscopy (ESEM) image of the 3D printed silica object, (h) printed miniature Erlenmeyer filled with colored water, (i) Erlenmeyer under open flame. Photo from ACS Applied Materials & Interfaces, 18879–18885 (2018).
Opportunity
High quality 3D printed ceramic and organic-inorganic hybrid objects

3D inks for transparent inorganic and hybrid objects.

Facilitate the fabrication of metal oxide structures that contain a variety of functional materials.

Various applications such as optical devices, complex and miniature reactors, microfluidic devices.
PATENT STATUS
Published US 2021/0139720 A1