| | |
| --- | --- |
| Category | Environmental, NanoMaterials |
| Keywords | LED, White, Metal-Free, |
| Current development stage | General list: TRL4 Technology validated in lab |
| Collaboration Opportunity | Sponsored Research with an option to License Research Results |
Background
Currently, there are two methods for generating a white color emitting LED: using three separate primary color LEDs (red, green and blue) or coating an ultra-violet LED with Rare-Earth-Element (REE) phosphor metals (such as cerium, europium, gadolinium, lanthanum, terbium, or yttrium) that create the white light. However, coating with these REE materials causes environmental and geo-political issues with mining, isolation, recovery, and recycling.
Our Innovation
The researchers developed a white LED that is REE-free by coating an ultra-violet-LED that is environmentally friendly and resistant to heat, humidity, and UV radiation.
Technology
In the publication, Stable White Light-Emitting Biocomposite Films et al 2018, the researchers show a biocomposite novel LED film/coating that can cost-effectively convert an ultra-violet LED into white light. This is done by incorporating red and green dyes inside a mucin-CNC (cellulose nanocrystals) matrix film. Mucin is a resilient protein that is even resistant to hydrochloric acid found in the gastrointestinal tract. This matrix is further strengthened by transparent CNCs to create a humidity and photo-oxidation resistant barrier.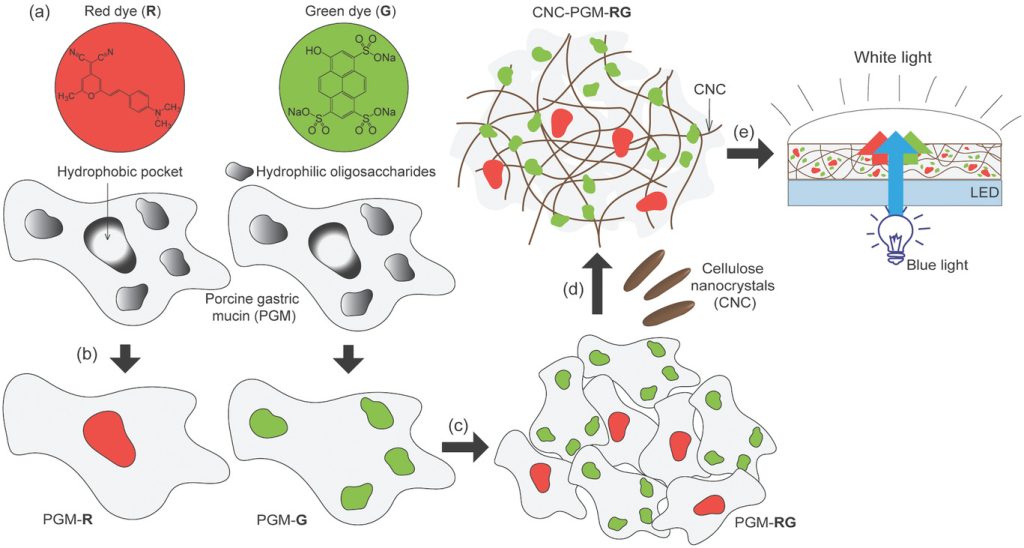 Images are reproduced with permission from Wiley: Gotta, J., Shalom, T. B., Aslanoglou, S., Cifuentes-Rius, A., Voelcker, N. H., Elnathan, R., Shoseyov, O., Richter, S., Adv. Funct. Mater. 2018, 28, 1706967. https://doi.org/10.1002/adfm.201706967
Opportunity
We are looking for an industry partner to take advantage of this patent pending technology, to sponsor further R&D and commercialize this innovation. This technology will reduce costs and environmental impact when manufacturing white LEDs.