| | |
| --- | --- |
| Keywords | Biosensors, Bacteria, random peptide mixtures |
| Current development stage | General list: TRL3 Experimental proof of concept |
| Collaboration Opportunity | Sponsored Research with an option to License Research Results |
Prof. Zvi Hayouka and Prof. Shlomo Yitzhaik
Background
There is an urgent need for the development of rapid bacterial identification methods to minimize contamination, decrease response time to treatment, as well as to prevent bacterial resistance in food, Agri- and health systems. Electrochemical biosensors are integrated devices that convert specific biological interactions into electrical outputs that provides users with actionable information, making them applicable in rapid bacteria detection.
Our Innovation
The researchers developed bacteria detecting biosensors based on low-cost electrodes bound to short peptides (short amino acid sequences). When the peptides bind in a semi- non- specific manner to living bacteria, the electrochemical signal changes, thereby identifying bacterial presence and possibly bacterial concentration levels
Identifies and differentiations between gram negative and gram-positive bacteria
Low-cost and easy to assemble biosensor
Integrate in-line detection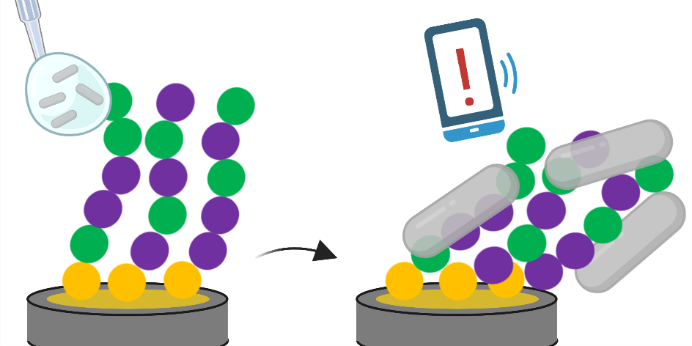 Technology
The peptides are short amino acids, made up of inexpensive simple compounds that can be assembled onto low-cost electrodes. We predict that at mass production these biosensors would cost around $.05-$.10 cents per electrode and would interact with handheld devices in a commercial setting.
These biosensors attract various bacterial cells translating the binding to electrochemical signal. These new biosensors were able to identify Pseudomonas aeruginosa, after a 40-minute incubation time in solution.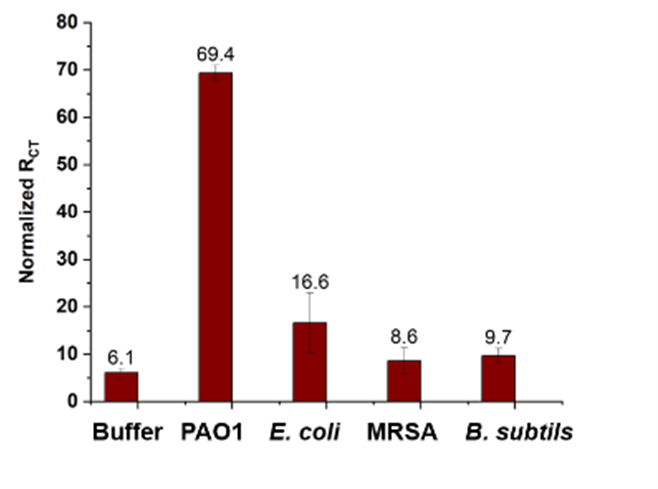 Opportunity
The designed device will provide a general bacterial detection and quantification in all relevant fields such as agriculture, food, health, and environment. The researchers are looking for industry partners to direct the research to the most applicable fields, sponsor additional research and license the findings and associated intellectual property.
References
MDPI: Impedimetric Bacterial Detection Using Random Antimicrobial Peptide Mixtures