| | |
| --- | --- |
| Category | Packaging |
| Keywords | 100% Biodegradable packaging , space filling, drop test |
| Current development stage | Experimental proof of concept  |
| Collaboration Opportunity | Sponsored Research with an option to License Research Results |
Background
In recent years, there has been a rise in consumer awareness and demand for "green" products (products having no harmful effect on the environment or ones that allow us to minimize such effects). This trend is particularly evident in packaging. Foam polystyrene and other plastic non-biodegradable materials are frequently used to fill the volume between the packaging and products. Rarely can these materials be recycled and they are considered huge contributors to pollution.
Our Innovation
Our novel technology enables us to produce dry gas-containing capsules that are 100% biodegradable and can be used to replace synthetic materials for packaging. The technology uses only well-known materials (food additives), that are both environmentally friendly and disposable/biodegradable.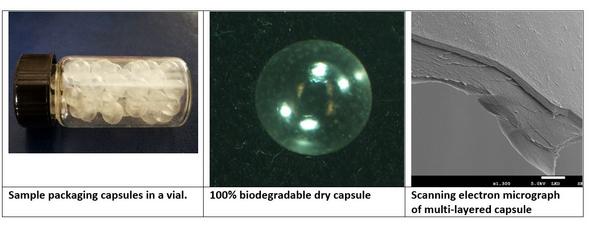 Technology
To create the hollow capsule, we form layers from the outside using a novel patent pending method and technology yet to have been described in scientific literature. This procedure allows us to determine the strength of the capsule membrane. We control the production parameters to produce capsules with different physical properties, containing a variety of gases.  When compressed to 90% deformation, our capsules demonstrate an impressive ability to withstand pressure when compared to foam polystyrene (EPS) particles. Preliminary tests have demonstrated the ability of our hollow biodegradable capsules to prevent any damage from occurring to a transparent pear light bulb under standard conditions of the drop test, in a manner equal to the results of polystyrene foamed particles or bubble wrap.
Opportunity
The market demand for biodegradable plastic replacements is increasing.   In lab-scale the technology meets market standards.  The researcher is seeking funding, partnership or collaboration to scale up production and license the research results.