| | |
| --- | --- |
| Category | Agriculture |
| Keywords | Hyperspectral Chlorophyll a and b ratio, yield increase, breeding, agronomy |
| Current development stage | General list: Choose current TRL level |
| Collaboration Opportunity | Sponsored Research with an Option to License Research Results |
Background
The ratio between chlorophyll a (chl-a) and chlorophyll b (chl-b) is used as an indicator for plant stress. There is currently no field device that readily provides this data. Devices that are currently available on the market only measure total chlorophyll through absorbance peaks on the leaf of a plant. This only provides a partial picture of the plants physiology.  
Solution
The creation of a new device that can measure chl-a and chl-b in the field would allow breeders and farmers to analyze the ratios between chl-a and chl-b, and thus monitor plant genotypes throughout the season in a nondestructive manner.  Such a device would allow accurate chlorophyll monitoring on a time scale to asses processes that are relevant to yield such as sink and source relations as well as various types of early stress that are detectable by changes in chl-a and chl-b ratios. This device could be an 'add-on' software device to products already available on the market.  With this information in hand, users could improve crop management and grow healthier plants with larger crop yields.
Our Innovation
Dr. Hermann and his researchers have begun creating a library of hyperspectral measured plant leaves in combination with extracted chl-a and chl-b.  The aim is to develop a library of data and algorithms that can process data uploaded from our device to provide an agronomist with the chl-a and chl-b content to make crop smart crop management decisions. The data for wheat leaves has already been measured, calibrated, validated and specific spectral bands have been identified to correlate with chl-a and chl-b in this crop.
The advantages of such a field device are clear:
Time saving with immediate results in the field or lab
Nondestructive
Library can be updated with additional data and crops
Technology
Chlorophyll content was predicted by measuring spectral data, developing and calculating indices and regressing their values to the extracted chlorophyll in the lab.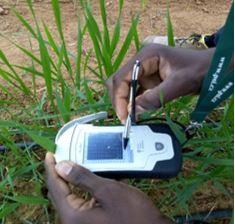 Opportunity
We hope to develop the database – collect more spectral data and actual chl data to train and test models based on bigger sample numbers. The first step is to test for more genotypes in wheat but the next steps would be to test additional crops and explore canopy spectral data ability. We aim to improve the accuracy and robustness of the current method, allowing the agronomist insights into the ratio between chl-a and chl-b.