| | |
| --- | --- |
| Category | Agriculture, Aquaculture, Fish Culture, Animal Sciences |
| Keywords | Spawning, Carp, Aquaculture, Yeast Production, Bioreactors |
| Current development stage | General list: TRL4 Technology validated in lab |
| Collaboration Opportunity | Sponsored Research with an option to License Research Results |
Background
Cyprinid are a family of fresh water fish including ornamental goldfish, koi, and the common carp, which is the most widely produced fish in the aquaculture industry worldwide
Carp represents 40% of the world aquaculture production of fish, crustaceans, and mollusks
In 2015, global culture carp production reached 28.8 million tonnes, with more than 20 million tonnes produced in China (

link

)

According to FAO projections, it is estimated that to maintain the current level of per capita consumption, global aquaculture production will need to reach 80 million tonnes by 2050
Induced spawning in cyprinid fish has traditionally been carried out by a carp pituitary extract (CPE) containing a predetermined dose of gonadotropin hormones (GtH)
Increasing demand for cyprinids has led to a shortfall in the supply of pituitaries, as such there is a shortage of pituitaries and CPE
P. pastoris yeast enables abundant production of LH recombinant protein
Yeast in bioreactors is routinely used in various industries for producing proteins
Our Innovation
By using yeast in bioreactors, we demonstrated a new method for producing the cyprinid spawning agent. This agent, luteinizing hormone (LH), is a recombinant and biologically active single-chain polypeptide that can be produced easily in abundance.
A simple production method efficient during most of the year
Enables abundant spawning and production of both male and female fish
Our Technology
Preliminary experiments show that optimal concentrations of recombinant LH (rcLHβα) would be above 350 ug/kg to induce spawning.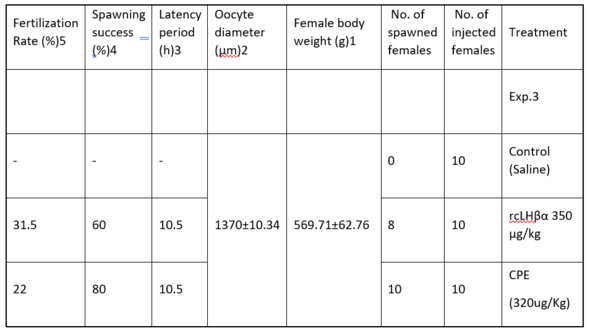 Table: Female body weight, oocyte diameter and latency period are expressed as mean ± SEM.
1 Mean±SEM of female's body weight (g) in experiment group.
2 Mean±SEM of oocyte diameter (µm) in experiment group.
3 Latency periods: the interval between resolving injection and spawning in hr.
4 Spawning success (%): the number of females which ovulated after injection divided by the total number of injected females.
5 Fertilization (%): the number of eggs that were fertilized divided by the total number of eggs sampled.
Opportunity
Seeking funding and industrial cooperation to further conduct research