Gilad Marcus, Applied Physics Institute, Hebrew University.
Salman Noach, Jerusalem College of Technology
Avital Bechar, Volcani Institute, Ministry of Agriculture and Rural Development.
Ran Lati, Volcani Institute, Ministry of Agriculture and Rural Development.
| | |
| --- | --- |
| Category | Agriculture |
| Keywords | Robotics, Precision Agtech, Weeding |
| Current development stage | General list: TRL4 Technology validated in lab |
| Collaboration Opportunity | Sponsored Research with an option to License Research Results |
Abstract
An autonomous lightweight weeding system that identifies and targets the most vulnerable spot on the weed for shooting a suitable irradiation beam for weed elimination.
Background
Weeds are the most significant biotic factor limiting agricultural crops. Weeds compete with cultivated plants for water, nutrients, light, and reduce global agricultural yields by ~10%. Chemical herbicides are the main tool used to control weeds today. The use of these substances provides effective pest control, however, some substances have been found to have negative health effects on humans and the environment As such, there is public pressure on legislators to limit their use.
Indeed, many chemical herbicides have been banned for use in Israel and around the world – additional herbicides may be banned for use in the future. Moreover, selection pressure following repeated application of herbicides with a similar mechanism of action leads to the development of herbicide resistant weed populations. These two trends reduce the weed control options available to farmers and endanger the continued supply and global food security. Therefore, it is necessary to develop and adopt alternative weed control approaches that maintain a high level of production while reducing the use and heavy dependence on herbicides.
Sensing and data processing technologies that exist today enable the application of precise (site specific) pest control, by automatically identifying individual weeds and quickly directing the pest control measures to the grass. Spot and precise treatment of weeds allows the use of non-selective herbicides without harming the cultivated plants.
Using a suitable beam is a non-chemical alternative to deal with weeds that offers the highest levels of precision for spot-on and precise treatment. The energy of the beam damages plants by pyrolysis (decomposition by heating) or cutting. The effectiveness of the impact depends on technical parameters such as the diameter of the beam, the wavelength and of course the exposure time (number of pulses). Pyrolysis heats the area where the beam hits, thereby causing an increase in water pressure in the cells, tearing of the membranes and finally death or retardation of development.
Despite the great potential inherent in the beam for effective and precise extermination of weeds, as of this moment, its use is still limited.  Previously high energy levels required for effective control and the long exposure time limited the use of this method in large scale applications. Current solutions that are under development are bulky and heavy, causing negative impact on soil compression, have a high energy cost and reduce the economic viability of this method. There is a need to find new technological solutions that will make energy-based weed control more efficient in terms of energy and treatment time.
Our Innovation
The researchers are developing a very precise, light weight and compact weeding system which can direct the energy beam to a critical targeted points on the plant stem, allowing heating of this point to a critical temperature with considerably lower power than competitive energy based weeding systems. This combination delivers pulse heating to the stem beyond 100 degrees Celsius and causing irreversible damage to the weed.
Technology
The researchers use a pulsed irradiation wavelength tuned to absorption line of the water in the weed. We focus the whole energy into a small vulnerable spot on the weed, causing an irreversible damage to the weed with reduced amount of energy, thereby reducing the required power and lowering power consumption and weight. It opens the possibility to put everything on a small, lightweight, and chip autonomous vehicle. It will enable a true solution for an autonomous weeding system.
In the following figures we show the results of our preliminary weed control tests.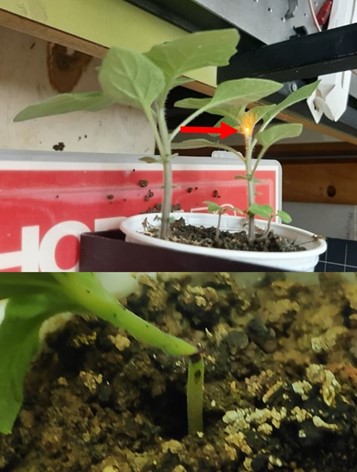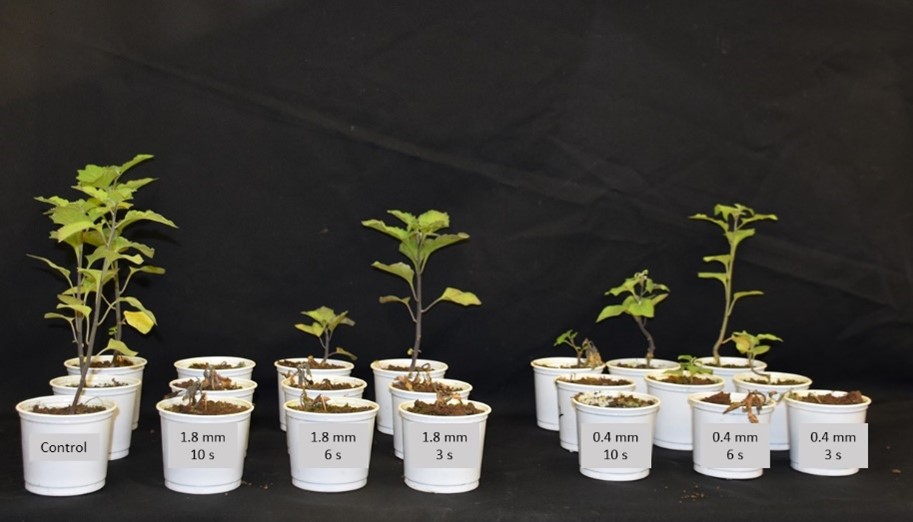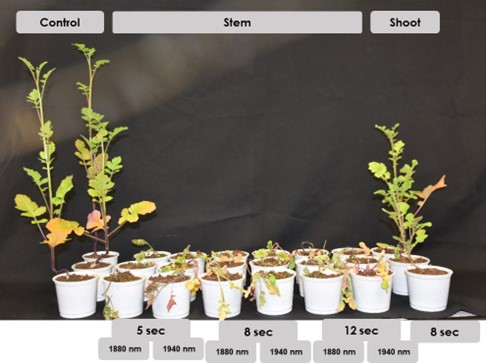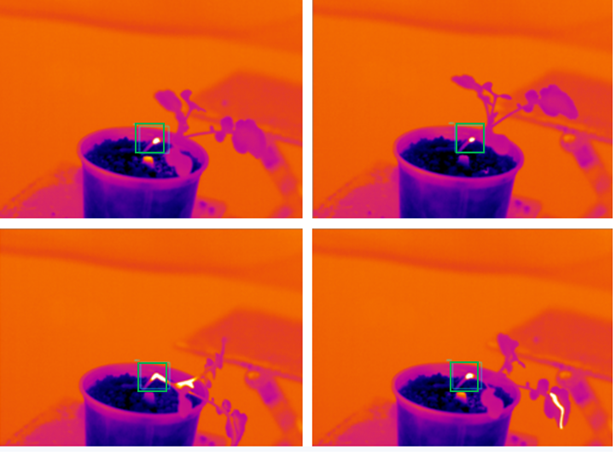 Opportunity
The researchers are looking for an industry partner to continue refining this technology and to bring this technology to market.