| | |
| --- | --- |
| Category | Agriculture, Life Science Biotech (Formulation) Veterinary and Animal Science (animal farm management) |
| Keywords | Lactic acid bacteria, Bacillus subtilis, natural encapsulation, probiotics |
| Current development stage | General list: TRL2 Technology Concept Formulated |
| Collaboration Opportunity | Sponsored Research with an option to License Research Results |
Background
It is well known that probiotics have substantial health benefits on mammalian hosts, by for example reducing the ability of pathogens to colonize intestine and by secreting beneficial compounds. However, probiotics cells must survive food processing and storage conditions as well as passage through the gastrointestinal tract (GIT). These processes reduce their vitality and viability3.
Live microorganisms also have agriculture and veterinary applications. In these applications, the microorganisms are challenged by various industrial processes such as drying, storage, and environmental conditions.
Our Innovation
By encapsulating probiotic bacteria in a natural and biodegradable shell, it is possible to enhance their survivability throughout various conditions. The researcher found that when B subtilis cells are gown in chickpea fibers, a prebiotic rich medium, the survivability of this probiotic4 is enhanced, by 100x in in vitro assays compared with controls.
This platform technology allows for developing protected probiotics with the following advantages:
Enhanced survivability of probiotic cells up to 100-fold.
Antagonistic activity against a wide spectrum of pathogenic species.
Stability and robustness of the physiological system for generating multispecies probiotic communities.
Technology
Polysaccharides from chickpea fiber (CPF) was used to enrich laboratory media (LB). B. subtilis cells were grown in the enriched media for 24 hours and the biofilms generated were subjected to in vitro digestion that mimics gastrointestinal activity.
The findings indicate the ability of probiotic bacterium B. subtilis to interact with the resistant starch fibers of chickpea5 that preferentially support the biofilm mode of growth by the cells. CPF triggers the increased expression of biofilm matrix genes causing B. subtilis cells to aggregate and form biofilms that confer protection to the embedded cells.
As seen in Figure 1a, biofilms generated with a chickpea fiber (CPF) prebiotic treatment improved the B. subtilis survivability by 100x in in vitro stomach (pH 2.0 + stomach enzymes) and intestine (pH 7.0 + intestinal enzymes) compared to wheat fiber (WF) and cellulose fiber (CF).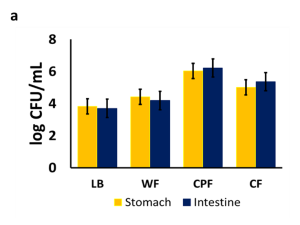 A novel cultivation system has been developed that enables co-culturing different probiotic Bacilli through increasing the protective matrix production3. The survivability of live-encapsulated probiotic cells was increased by several magnitudes during desiccation process and passage through the GIT using an in vitro digestion model. Additionally, our antimicrobial analysis identifies antagonistic potential of these probiotic bacteria against different pathogenic species.
Opportunity
The researchers are looking for partners for implementing the technology in either feed or food industry. Clinical applications for naturally encapsulating probiotic cells could also be considered. The technology is available for licensing. Patent Position
Patent Position (Yissum Ref#6824-06): USA Allowed 2019-0216124-A1
Scientific Articles
Functional food science and gastrointestinal physiology and function. https://doi.org/10.1079/BJN19980108
Health and Nutritional Properties of Probiotics in Food Including Powder Milk with Live Lactic Acid Bacteria
http://www.fao.org/3/y6398e/y6398e.pdf
Encapsulation of beneficial probiotic bacteria in extracellular matrix from biofilm-forming Bacillus subtilis
https://pubmed.ncbi.nlm.nih.gov/29806505/
The safety of Bacillus subtilis and Bacillus indicus as food probiotics
https://sfamjournals.onlinelibrary.wiley.com/doi/full/10.1111/j.1365-2672.2008.03773.x
Biofilm formation onto starch fibers by Bacillus subtilis governs its successful adaptation to chickpea milk
https://sfamjournals.onlinelibrary.wiley.com/doi/full/10.1111/1751-7915.13665
Role of Probiotic Bacilli in Developing Synbiotic Food: Challenges and Opportunities
https://www.frontiersin.org/articles/10.3389/fmicb.2021.638830/full