Background
The current commercial photo-initiators are unsuitable for radical-polymerization of adhesive coatings and 2&3D printing due to their poor water solubility, low efficiency and restricted suitability to the emerging LED technology.
There is an evolving need for more efficient photo-initiators in the 3D biomedical industry which develops scaffold for tissue engineering, smart capsules for drug delivery, dental implants, etc.
Our Innovation
We developed a novel platform technology based on photocatalytic colloidal quantum nano-materials. The novel catalysts for light-induced REDOX reactions and reactive species formation enable significant advantages such as:

Efficient photocatalytic activity

Superior single and two-photon light sensitivity

High solubility in various solvents including water

High stability allowing prolonged use and multi-functionality

Wide and tunable absorption spectra suitable for excitation in the near UV-VIS range
Our nano-materials can efficiently and continuously produce reactive species on demand by near UV-VIS light excitation in both organic and aqueous solvents, allowing the replacement of the traditional polymerization processes currently done in organic solvents and/or with deep UV light sources.
Opportunity
Photo-catalysis, the enhancement of chemical reactions by light, is a powerful approach, beneficial for a wide-range of innovative industries.
The wide range of applications of the current developments covers among others:
Water soluble photo-initiators for 2&3D printing

Controlled peroxidase based diagnosis and sensing

High-Spatial & temporal resolution

Green Hydrogen fuel production

Methane emission reduction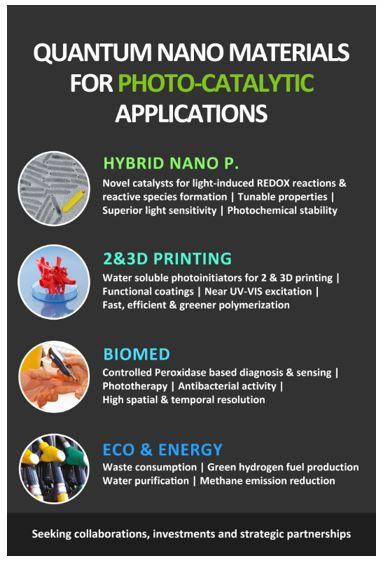 PATENT STATUS
Published
Granted US 10,442,944; US ; China