| | |
| --- | --- |
| Category | Life Sciences and Biotechnology |
| Keywords | Diagnostics, Biomarkers, Infection diseases |
| Current development stage | For Pharmaceutical development: TRL4 – PoC&Safety of candidate device or system is demonstrated in a defined lab or animal model |
Application
The diagnostics field aims at detecting specific biomarkers, some of which point directly to disease stages as well as to infections. However, numerous diagnostic technologies need to overcome the following challenges:
Many biomarkers are present in body fluids at low concentrations. Their amplification is not always feasible in case of proteins or other types of molecules, unlike with nucleic acids. Moreover, the amplification process is exposed to propagating errors, which may lead to false diagnostic results.
The clinical time-to-decision of diagnostic procedure is critical. The results of many of the existing more precise bio-detection technologies are within relatively long-time ranges, mainly due to the need of an amplification stage.
The suggested technology aims to detect molecular signs of disease using a new optics-based technology. This technology is characterized by very high sensitivity and rapid detection times, and therefore overcomes the difficulties encountered by current diagnostic technologies.
Our innovation
We developed a technology that allows detection of non-amplifiable biomarkers in body fluids, at low concentration loads, and results within minutes.
The new technology is based on a novel optofluidic bio-detection scheme of biomolecular interactions in a laser confocal microscope at nanometer resolution. The technology was tested and showed positive results in detecting the corona virus as well as other viruses and is applicable for further pathologies such as cancer and more.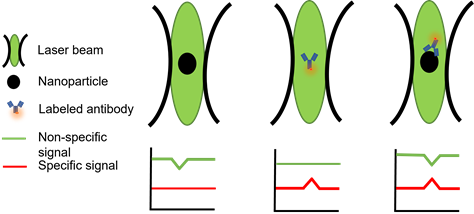 Opportunity
The technology retrieves information on biomarkers utilizing laser confocal microscopy accurately with high specificity exhibiting no false positives and low false negatives. While the technology was initially tested for rapid accurate virus detection, it is expandable and hence is applied as follows:
It can serve as a platform tool for the diagnosis and prognosis of many types of diseases including cancer and pre-cancer, multiplexed diagnostics
Early detection of scarce amounts of biomarkers, such as in Parkinson's Disease (PD) biomarkers in serum.
It opens the possibility of detecting a wide range of new biomarkers, due to its high sensitivity, which overcomes the need of amplification
It allows for rapid testing for viral vs. bacterial infections