| | |
| --- | --- |
| Category | Consumer, Marketing Intelligence |
| Keywords | Brand Management, Artificial Intelligence |
Application
Understanding consumers' associations with brands is a central part of brand management. It is a challenge for brand management agencies and large FMCG companies managing their own brands. Consumers associate a brand with multiple objections, emotions, activities, and concepts.
Our Innovation
The researchers developed an AI-powered Brand Visual Elicitation Platform (B-VEP) that allows companies to collect and analyze online brand collages from consumers.
Using unsupervised machine-learning and image-processing tools, the researchers analyzed the collages to obtain a detailed set of associations for each brand. Using the power of visuals to depict a detailed representation of respondents' relationships with a brand, the elicitation is direct, unaided, scalable, and quantitative. The tool helps to obtain:
prototypical brand visuals
relating associations to brand personality and equity
identify favorable associations per category
explore brand uniqueness through differentiating associations
identify commonalities between brands across categories for potential collaborations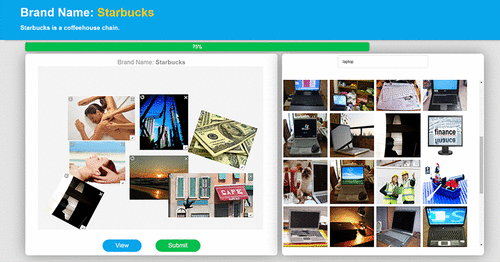 Opportunity
Association extraction methodology combines beyond state-of-the-art text-mining methods. B-VEP can be used to support both the creative function and the strategic function of the brand management team. For the creative function it provides a prototypical collage, or a mood board, for each brand insights. For strategical functions it is useful in assessing brand health, competition relative to other brands as well as collaboration opportunities.