| | |
| --- | --- |
| Category | AgTech |
| Keywords | Mosquito Repellent |
| Current development stage | General list: TRL3 Experimental proof of concept |
| Collaboration Opportunity | Sponsored Research with an option to License Research Results |
Background
Mosquitoes are the deadliest of all combined insects and animals affecting millions and killing hundreds of thousand people each year. Existing protection methods however are limited and include volatile compounds that actively repel mosquitoes such as DEET or different essential oils such as geraniol and citronella. Most are odorous compounds and require organic solvents for dispersion.  Plant derived natural particles used in the gel of the invention can self-assemble into transparent films.  
The gel with the natural plant-derived particles dries on the skin to form an invisible camouflage layer on the skin that prevents mosquitoes from recognizing it as human skin. In its wet form the plant-derived particles are dispersed in water and can enable the dispersion of existing repellents.  The plant derived particles can even disperse compounds that usually require organic solvents. The inventors have formulated a gel with the plant derived particles embedded with mosquito repelling molecules that reduces egg laying by 99.4%
Further, the unique properties of the plant-derived particles generate a complex structure at the nanoscale that will allow sustained release of the active compounds.
Our Innovation
The researchers developed a gel to be applied on the skin that camouflages human skin from mosquitoes' detection systems. The combined effect of the plant derived particles and the repellent, reduced egg laying in the model by 99.4%
Water based, ubiquitous ingredients
Can be applied on skin or any surface (backpacks, bed nets, fan etc.)
Can improve existing solutions on the market
Ingredients all have an INCI number (cosmetic ingredient registration ID)
Multiple entry to market strategies
Technology
The plant derived particles are now a commercially available product that can be purchased with an INCI number as a dry powder or a suspension in water. Mosquito repellents can be added to the aqueous solution and dispersed using industrial homogenizers or sonication probes. Natural hydrating agents are also added to allow a smooth film formation on skin. The gel can then be applied on exposed skin areas or functional surfaces such as bed-nets, tents and backpacks or formed in a self-standing film.
The human skin under this protective layer is very difficult for the mosquito to detect and the loaded repellent is slowly released to further prevent any approach.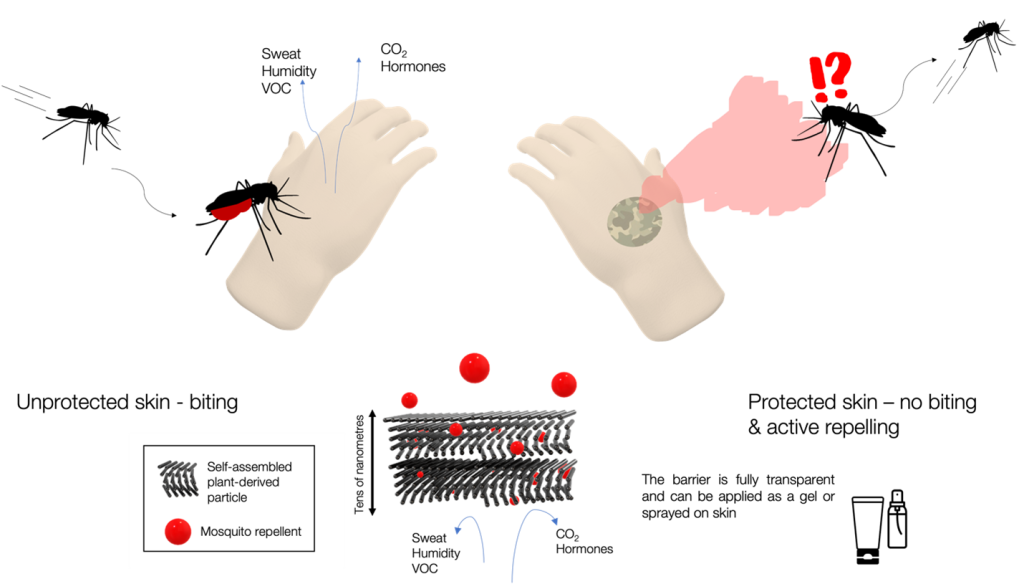 Opportunity
The researchers are looking for industry partners to direct the research to the most applicable fields, sponsor additional research and license the findings and associated intellectual property (provisional patent application was filed).
The impact can be commercial, governmental, and institutional.
The industries currently involved in commercializing insect repellents may see an opportunity to improve their own products or expand their product range with better performing products. These may include cosmetic companies, pharmaceutical companies, or outdoor leisure companies.
Tropical countries where mosquitoes pose a direct threat may have direct interest or indirect through military bodies, MOHs and health insurance companies.
Global Institutions like WHO or the UN may also want to support this project as part of the SDGs to eradicate diseases such as Malaria. This may also apply to philanthropic foundations.
In addition, this invention has a unique sustainable edge with a fully water-based chemistry. This may be of interest to producers that need to divest from organic solvents that can be toxic and are less authorized as regulations worldwide progress in this direction.