Application
Gravity plays a role in any physiochemical reaction. On Earth, gravity has a high impact on every movement and reaction, with a value of 9.8 m/s². In space, only a small amount of gravity can be found, which is known as microgravity (with a value around
 m/s²).
The microgravity environment of space accelerates aging and disease processes, as well as contributing to drug resistance among bacteria. The conditions are an opportunity for new drug development. While the unique circumstances can improve protein crystallization and contribute to the development of novel drug formulations, launching experiments to space is extremely limited and costly. With the increase in space tourism and the transition to "new space," there is an increased market demand for research, technology, and solutions for medical challenges typical to space flight.
Our innovation
Our innovation brings a solution to this new market demand with a unique approach for exploring biological processes and physiochemical reactions as they occur in space. Our process is also streamlined to offer fast results and discoveries, especially in the drug development field.
Our simulator (Random Positioning Machine – RPM, Airbus) can mimic microgravity in space. Utilizing our equipment we can research a variety of drugs, proteins, cells and analyze the compound. Additionally, we can assess the properties and changes in living cells and the effects of pharmacological interventions.
The major advantages:
Unique Research tool that could allow accelerated discoveries compared to the current classic 'On Earth' experiments
The RPM can stimulate microgravity of the Moon, Mars and more
The RPM is located within a dedicated incubator which allows culturing cells and biological experimentation
Proximity to the Hadassah Medical Center allows studying human tissue within minutes from their resection at the surgical suite
A dedicated academic team that can support all experiments with our partners and collaborations throughout the world
Technology
The RPM is positioned in the Equipment Unit at the prestigious Institute for Drug Research. The unit includes top-level instrumentation for quantifying small molecule concentrations, characterization of nanoparticles and drug formulations, and more.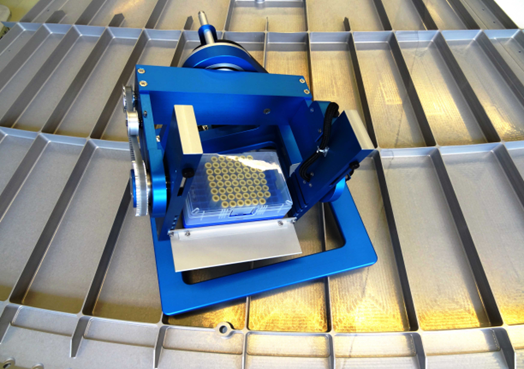 We plan to implement a device such as a microscope or a spectrophotometer to measure in real-time the fluorescence of the cells and compounds and follow their reactions in micro-gravity conditions, further enhancing our results
Opportunity
Dedicating our Space Lab with the RPM and our other cutting-edge devices, we can further develop collaborations to share data and knowledge. This includes, but is not limited to, the Hebrew University's Rocket Center and SpacePharma, the first active Israeli company in this field.  
Our strategy includes offering a regional infrastructure for microgravity, becoming a center for experiments and analyses. Pharma companies would have access to our team and our tools to analyze the properties and the reactions of their molecules. In addition to drug development, we can analyze cell activity in different environments to further research disease mechanisms.