| | |
| --- | --- |
| Keywords | Volatiles, Smells, VOCs, biosensor, e-Nose, o-Nose, SWCNTs, CNT, nanotubes |
| Current development stage | General list: TRL3 Experimental proof of concept For Pharmaceutical development: Choose current TRL level For medical device: Choose current TRL level |
| Collaboration Opportunity | Sponsored Research with an option to License Research Results |

Researchers: Vlad Shumeiko, Yossi Paltiel, Oded Shoseyov | HUJI
Background

The human nose is still the primary tool for smell evaluation, especially in the perfume, food, and beverage industries. Classical analytical methods to detect volatile molecules and monitor their levels, such as ion mobility spectrometry (IMS), gas chromatography (GC), and mass spectrometry (MS), are highly accurate but requires costly equipment and skilled staff, and are time-consuming and unsuitable for real-time monitoring.
In billions of years of evolution, nature has created incredible tools to cope with daily challenges with astonishing effectivity. The human olfactory system orchestrates the smelling task via approximately 400 different types of receptors, which provide the ability to sense thousands of different smells. We developed a sensor able to sense different smells by mimicking the natural approach of the mammalian olfactory system by using a defined set of non-strictly specific receptors to enable the sense of different smells.
Our Innovation
We have developed an artificial optical nose able to sense and discriminate between different smells.
The device is simple and affordable – it is based on a cheap silicon camera and LEDs/Laser.
Sensors are deposited on paper, enabling cost-effective sensor production and replacement.
The sensors can operate at room temperature, in a wide range of humidity levels, and is fully recoverable.
Technology
We developed a nanoscale paper-based near-infrared optical nose consisting of peptide-wrapped carbon nanotubes (CNT). Our sensor provides data in real-time, able to operate at room temperature, and fully recoverable. We have established a simple optical setup where a specific subtype of CNT chirality is used, leading to a significant reduction in system costs and complexity. The optical response of the sensors to different volatiles in the gas phase at room temperature was monitored. Each tested analyte produced a different optical response of the array, thus enabling discrimination between the volatiles. We have also demonstrated that the sensor array signal may be analyzed using a machine learning algorithm directly from the resulted image of the entire array without the need to analyze each sensor separately. As a signal drift is a well-known phenome in various gas sensors, we have deposited our array on a paper that is physically separated from the detector; therefore, sensors replacement in case of degradation is simple and cost-effective.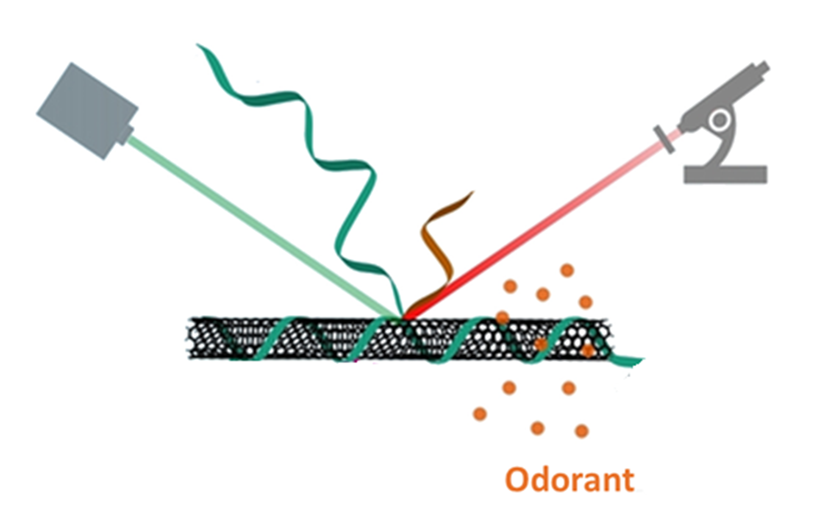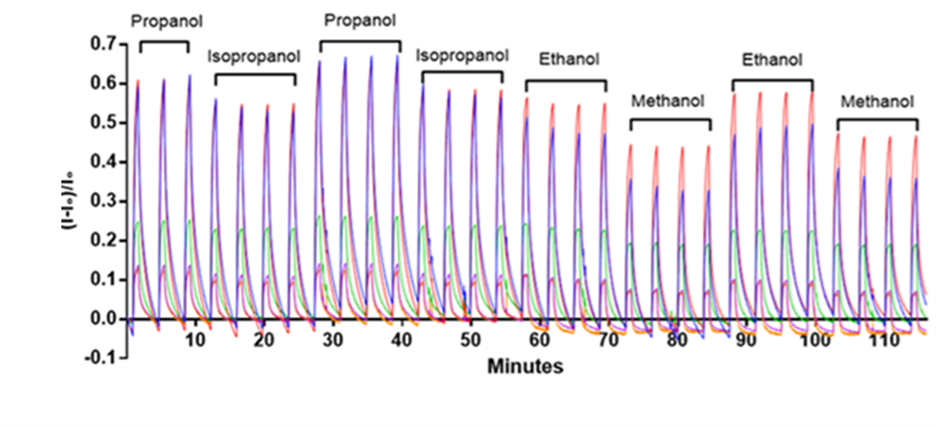 Published Papers
https://www.sciencedirect.com/science/article/pii/S0956566320307508
https://www.sciencedirect.com/science/article/pii/S0925400520311795
https://ieeexplore.ieee.org/abstract/document/9716117
Opportunity
The researchers are looking for collaborating with an industry partner to commericlize this technology. The optical nose technology can be used in numerous applications across sectors. Some examples include:
1) Diagnostics of urinary tract infection by urine smell.
2) Shipping containers examination by the customs authority (detection of tobacco smuggling).
3) Early detection of contamination in food (meat, chicken, fish) and shelf life prediction.
4) Wine quality examination.