Background
Large scale application of solar cells depends on attaining high solar radiation conversion efficiency, AND on further substantially reducing production costs.

Solar cells are typically constructed of multilayer heterostructures, having substantially three functions: harvesting the solar radiation, conducting the resulting positive and the negative charge carriers.

Advancement in nanotechnology, in particular semiconductor nanostructures, opens the door for the use of nanocrystalline pigments as attractive light harvesters due to their large optical cross section, tuneable band gap and exceptional long term stability. These may enhance conversion efficiency and potentially reduce production costs.
Our Innovation
We have recently discovered that in Dye sensitized solar cells (DSSCs) made of nanoparticles with pervoskites as active layer the radiation harvesting layer can uniquely function also as a positive holes conductor. Our invention, expanding on earlier joint development work with Prof. Graetzel, avoids the need for a dedicated conductor for transporting positive charge carriers, considerably simplifies the solar cell structure and reduces production costs.
Furthermore, these cells are made through solution-based processes, a much simpler and less costly manufacturing process compared to conventional silicon based solar cells. Also, contrary to conventional DSSC our invention is based on inorganic material, with inherent long term stability.
These photovoltaic cells yield remarkably high electrical performance level characteristics.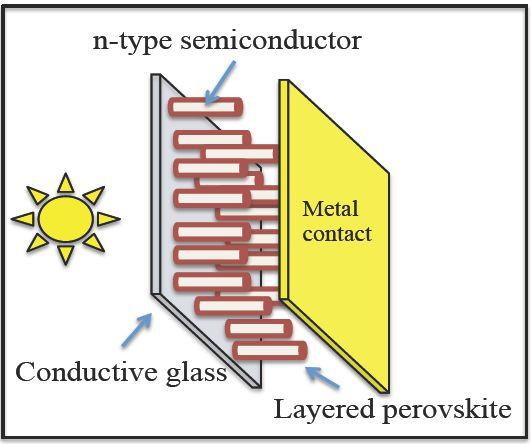 Key Features
Dye sensitized solar cells (DSSC) based on Perovskites, without a dedicated hole conducting material.

Technology is based on Nanostructures with controllable optical and electrical properties.

Inorganic materials assure the long term cell stability, substantially overcoming the limitation of conventional DSSCs

Simplified solution-based production, reducing the need of costly high class, clean rooms production infrastructure.

With this technology flexible and large area solar cells can conveniently be manufactured.
Development Milestones
Proof of concept devices fabricated and tested.
The Opportunity
Solar energy technology is a growing global market demonstrating stable double digit CGR.
Photovoltaic cells are the leading technology in the solar energy market.

The invented technology demonstrates a unique combination of inherently simple structure, simple production infrastructure and low manufacturing cost, yet features potential high electrical performance and high conversion efficiencies.

Seeking opportunity to license the technology, and funding for further development towards commercialization.
Researcher Information
Dr. Lioz Etgar, E-mail: [email protected]
Website: http://chem.ch.huji.ac.il/etgar/index.html
PATENT STATUS
Granted US 10,079,356