| | |
| --- | --- |
| Category | Agriculture |
| Keywords | Plant cuttings, Rooting, Roots, IBA, Vegetative propagation, Avocado |
| Current development stage | General list: TRL6 Technology demonstrated in relevant environment |
| Collaboration Opportunity | Licensing of Technology |
Background
Propagating plants by cuttings (vegetative propagation) is one of the easiest and most cost-effective methods of propagation. After creating cuttings from the mother plant's stem, the cuttings must be rooted. For easy-to-root plants, growers are interested in increasing the rooting rates and shortening the time needed to obtain suitable roots. However, some plants are very hard to root and others, like avocado have thus far been impossible to root.
For these hard-to-root-plants, methods such as grafting or tissue culture are employed. However, these methods are labor intensive and costly and therefore novel solutions are urgently needed. Most existing commercial rooting products contain IBA (Indole-3-butyric acid rooting hormone), with few alternative propagation options.
Our Innovation
We have developed a technology that has a 75% rooting efficiency for avocado cuttings. This development will disrupt the avocado industry by moving away from grafting of seedlings ('Frolich' technique) to vegetative propagation.
In addition to our breakthrough with avocado rooting, we developed several innovative horticultural plant rooting products (with and without IBA hormone), that increase rooting efficiencies in flowers, shrubs and trees, with the goal to:
increase rooting percentages
decrease the time required to obtain roots from cuttings
improve the quality and number of roots
constitute a solution for hard-to-root-plants
Technology
The researcher produced several products that are either in dry, liquid, or semi-solid formulations. These novel formulations allow for novel controlled release applications of indole-3-butyric acid (IBA) as well as added components that boosts the innate ability of plants to root. These formulations use only FDA approved, GRAS (generally recognized as safe), biodegradable and non-toxic materials.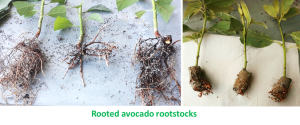 Experiments in different plant species demonstrated promising results. The experiments were conducted with cuttings from avocado rootstocks, apple rootstocks, olives, argan, litchi, and different flowering plants: Gypsophila paniculate "Million Stars" and Craspedia "Paintball Globe" (see photographs below).
Our innovative plant rooting products differ from other commercial products in the materials, in their form, and in the delivery methods.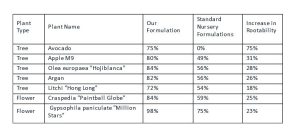 Opportunity
Yissum is looking to partner with a commercial entity to bring these novel rooting products to market and to disrupt the avocado industry.