Background
The freshly cut fruit and vegetable market has been rising continuously over the last 15 years, expected to hit US$425 billion in 2026[1]. However, these minimally processed fruits usually increase the degree of perishability and, result in massive fruit waste, economic losses to retailers and the product's high prices in the market. After minimal processing the fruits remains biologically and physiologically active, in that the tissues are living and respiring, responding to the tissue damage inflicted by the trimming, peeling and cutting.
There are several well-known technologies for fruits and fresh-cut fruit treatment: washing with sodium hypochlorite, hydrogen peroxide, organic acids or irradiation technologies. However, these traditional protocols are only able to provide microbiologically safe food products with acceptable quality characteristics for up to one day. Therefore, the current challenge is to discover new technologies, which would allow extending the shelf life of fruits and especially fresh-cut fruits products from one day to several days.
Our Innovation
The researchers developed a two-stage fruit wash that at moderate conditions allows a significant extension in the shelf life of fresh cut fruits. The novel treatment process significantly delays the onset of bacterial growth and decreases the bacterial growth by between four and seven days (in refrigeration) for fresh-cut fruits and up to 21 days for un-cut fruits. The proposed innovative procedure is straightforward, environmentally friendly and economical in comparison with other procedures known in this field. All components of the disinfectant are generally recognized as safe (GRAS), biodegradable and are within concentrations approved by FDA for the fruit treatment industry.

Technology
The technology is already beyond proof of concept for several types of fruits such as apples and mangos. We already demonstrated that we could extend the shelf life of fresh-cut mango for seven days with full disinfection, as shown in Figures 1-5.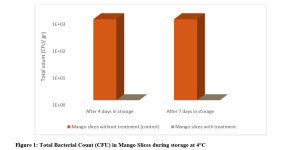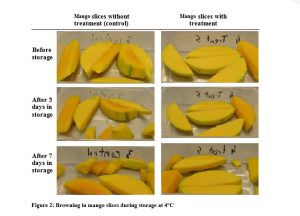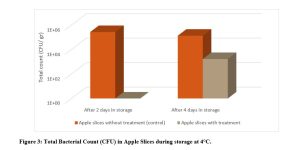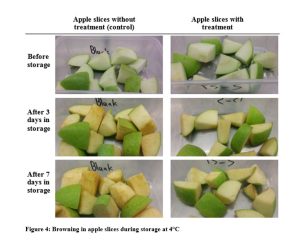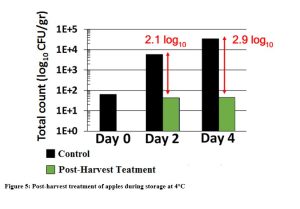 Opportunity
We are looking for industry partners to sponsor additional R&D, scale-up the technology, and commercializing its use. This technology can also be used for sterilizing agricultural equipment.