| | |
| --- | --- |
| Category | AgriTech |
| Keywords | Herbicide |
| Current development stage | General list: TRL6 Technology demonstrated in relevant environment |
| Collaboration Opportunity | Licensing of Technology |
Background
Herbicides are chemicals used to manipulate or control undesirable vegetation. Herbicides are applied before or during seeding or planting to maximize crop productivity and improve harvesting by minimizing other vegetation. Nowadays, herbicide use is increasingly being adopted around the world. Soil and leaf herbicides are the most common market solution.

In 2022 the global herbicides market was predicted to be $39.15 billion, with a CAGR of 6.25%. Glyphosate-based herbicides such as Roundup are broad spectrum, targeting broadleaf weeds, grasses, and woody plants. These herbicides were the most efficient and cost-effective solutions for decades. Currently, Glyphosate-based materials are ~25% of the total herbicide market ($10 billion). Glyphosate-based materials are rapid, efficient, cost-effective, and straightforward to use. However, recent findings have shown health and deleterious environmental impacts (such as plant resistance), causing many countries to look for a new non-Glyphosate solution. New environmentally friendly, broad spectrum, efficient and cost-effective non-Glyphosate herbicide that can be used with the existing spaying equipment, is in great need today. 
Our Innovation
Typically, herbicides cause deformities in weeds by inhibiting cell division, photosynthesis, or amino acid production. Our new approach for vegetation control is based on changing the ion balance and dehydrating the plant.
The major advantages of the technology:
Faster than existing solutions
Efficient for Glyphosate resistant plants
Cost-effective
Compatible with existing spraying equipment and protocols
Simple to use
Natural Salts
Environmentally friendly product
Technology
We propose a new technique for vegetation control. The technology is based on the spraying of a mixture of inorganic salts. The salts penetrate the plant's stem (absorption by the plant's roots and leaves) and, in the beginning, change the ion balance inside the plant. In the second stage, the salts dehydrate the plant (water absorption). The material is a non-selective herbicide, broad-spectrum "total weed-killer" that destroys in a non-selective manner, all types of plants with which they come in contact. Our technology has two impacts on the plants; the first is the immediate impact of non-selective treatment of the vegetation. The second impact is the persistent effect prevents the plants' new growth for an extended period (depending on the weather and geographic location). Moreover, during a series of tests under laboratory and field conditions, we proved that the solution could also treat glyphosate-resistant species in a shorter time.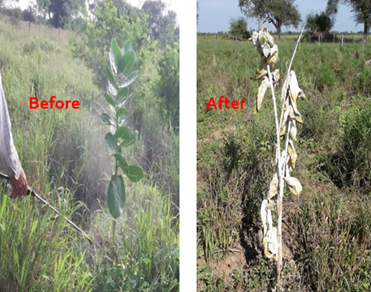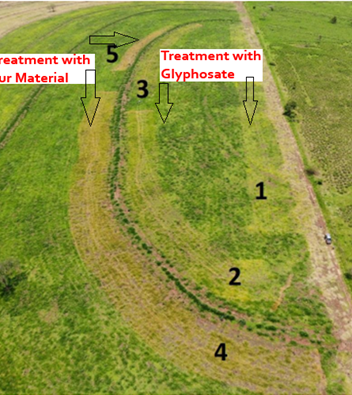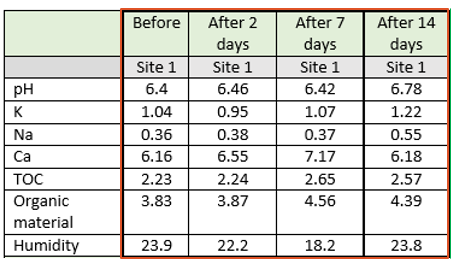 Opportunity
Yissum has applied for international patent protection No. WO 2020/225804. The patent application is currently in the national phase filed in US, Europe and Brazil as well as other S. American countries. Yissum is looking for an industry partner to license and commercialize this technology globally.