| | |
| --- | --- |
| Category | Life Sciences and Biotechnology |
| Keywords | NAFLD, NASH, Diabetes, Metabolic Syndrome |
| Current development stage | For Pharmaceutical development: TRL4 – PoC&Safety of candidate device or system is demonstrated in a defined lab or animal model |
Background
The endocannabinoid (eCB) system is involved in the development of obesity and its related comorbidities, specifically NAFLD. eCBs, via activation of the cannabinoid type-1 receptors (CB1Rs) in the liver, increase hepatic glucose production, insulin resistance and de novo lipogenesis, and decrease fatty acid oxidation.
Accordingly, chronic CB1R blockers improve these parameters both in rodents and humans; however, due to their neuropsychiatric side effects, they are no longer available for clinical use.
Our Innovation
Here, we introduce a novel drug delivery system for peripheralization of a known (previously abandoned) CB1R blocker, for the treatment of NAFLD. Targeting hepatic CB1Rs specifically by Rimonabant encapsulated in nanoparticles (Rimo-NP) can offer a treatment for fatty liver disease.
This breakthrough technology combines high efficacy with safety of the proposed NPs-encapsulated CB1R blockers.
We demonstrated the therapeutic value of Rimo-NPs in a rodent model of obesity/metabolic syndrome, and showed:
An effective delivery of a water insoluble drug (i.e., rimonabant) at a high dose to the liver
Protecting the drug from the hostile environment
Controlled delivery and targeting of rimonabant to the liver
Reducing its toxic centrally mediated side effects
Efficacy in reversing NAFLD, dyslipidemia, and insulin resistance in mice
Opportunity
NANOFLD aims to promote the clinical development and testing of our novel methodology for peripheralization of the CB1R blocker, Rimonabant Nanoparticles (Rimo-NP), for the treatment of NAFLD (Fig. 1).
Rimo-NPs are expected to be the first drug to safely and effectively address the need of NAFLD therapy and preventing liver-related complications.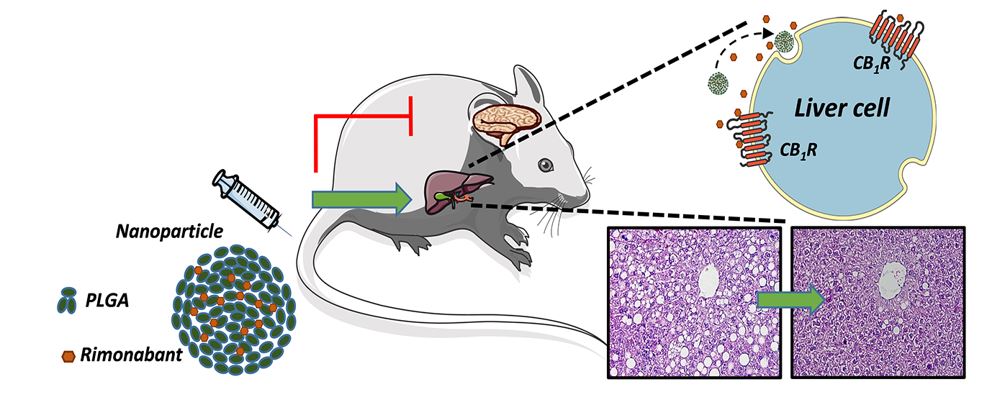 Intellectual Property:    
Provisional patent application #63/202,554 was submitted