| | |
| --- | --- |
| Category | Hardware, semiconductors |
| Keywords | Embedded memory, spin-orbit torque |
Application
The spin-orbit-torque MRAM (SOT-MRAM) is the next-generation embedded memory. It typically relies on the Spin Hall Effect (SHE) and has been considered a serious candidate capable of reducing the energy of the spin-transfer-torque magnetic random-access memory (STT-MRAM). It is fast and has a low standby power density.
However, to date, the SHE has not proved sufficient efficiency, since it relies on heavy precious metals that increase the magnetic losses and are cost inefficient.
Our Innovation
• Spin Labs' Technology drastically reduces the power consumption of the SOT-MRAM.

• Our technology is based on the mechanism of the Orbital Hall Effect (OHE) taking place in light metals. The OHE is the orbital counterpart of the SHE whereby an orbital current is generated. It was theoretically predicted as being robust and capable of providing high charge-to-spin current conversion efficiencies.

• In pure Cu and Al, OHE can generate spin currents with higher efficiency as compared to the SHE of Pt, generally used in the semiconductor industry. We convert the generated orbital current in Cu to a useful spin current by introducing an ultrathin layer of spin-orbit coupling (SOC) at the boundary of the Cu layer (Fig. 1).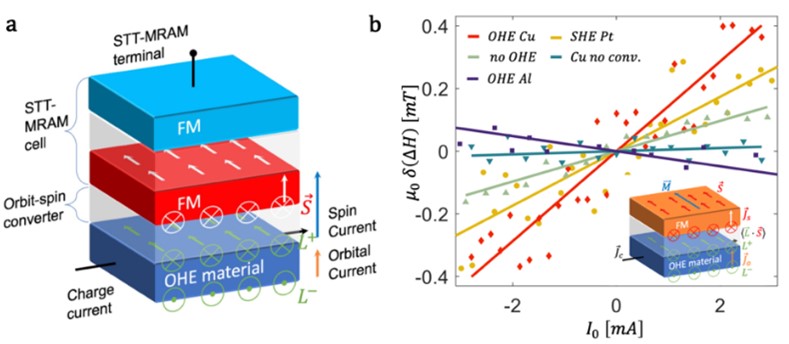 Advantages
No need for spin-orbit-coupling.
Efficient and fast generation of spin torque.
Use of light metals: low magnetic losses and cost-effective materials.
Non-volatile
Low power
Low cost
Ultra dense
High endurance
Compliant with the latest VLSI technologies
Opportunity
Our technology could be used in a wide range of applications, such as:
EDGE AI CHIPS
IN – MEMORY PROCESSING
DATA STORAGE SYSTEMS
IOT (INTERNET OF THINGS)
TERMINAL DEVICES
WEARABLES
AUTOMOTIVE
IMAGE SENSOR/DISPLAY CONTROLLERS
LOW-LEVEL CACHE
MOBILE
The group is seeking industrial partnerships and sponsored research to advance and validate the research results.