Our Innovation
We have developed a non-toxic, ecologically-friendly anti-bacterial agent that prevents bacterial diseases in agricultural crops, including in fruit and vegetables – caused mainly by pathogenic bacteria. Such diseases are commonly treated with copper-based pesticides, which has resulted in the development of numerous copper-resistant bacterial strains.
This technology is the first peptide-based plant-protection agent that reduces disease severity, offering an effective, low-cost alternative to copper-based pesticides.
Technology
The peptide-based agent was tested in green-houses on two types of Xanthomonas – a phytopathogenic bacteria, one type which caused black rot in kohlrabi, and the other one causing bacterial spot disease in tomatoes.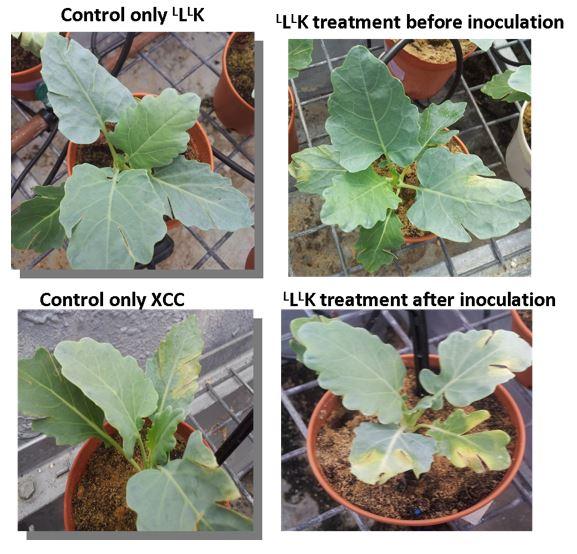 Inoculation was done by clipping leaves with scissors previously dipped in the peptide based agent.
The effects of the designed peptides – leucine and lysine peptide mixture, sequenced LLLK – were determined when the random peptides were added, before and after inoculation was applied. Plants were grown in a greenhouse at 28°C, under high relative humidity for 10 days – conditions which are optimal for disease development.
The results showed that the peptide based agent reduced at least 50% of disease severity when was applied once – 24 hours before inoculation.
In addition, wherever the agent was applied on the plant before its infection by the bacteria, the bacteria appeared in significantly lower percentages, indicating that the agent prevented the bacteria from spreading, by suppressing its growth.
Benefits
Effective anti-bacterial agent – applied directly to the plant's leaves

Fast-acting, starts working upon contact with the plant

Low cost, easy to synthesize

Eco-friendly, non-toxic compounds, as opposed to toxic, copper-based pesticides

Soluble in water, versus copper-based materials which remain on the plant

Difficult for bacteria to develop resistance
Development Milestones
We have achieved reduction in disease severity

We intend to move from greenhouses to field experiments

We plan to examine environmental effects on bees, and potential benefits of the bacteria for soil.
Applications
Post-harvest preservative
 Researcher information: http://departments.agri.huji.ac.il/biochemfoodsci722/teachers/zvi_hayouka/