| | |
| --- | --- |
| Category | Agriculture |
| Keywords | Sustainable Agriculture, Food Security, Pesticides |
| Current development stage | TRL3 Experimental proof of concept |
Application
The question of how to feed the world's growing population, is critical and yet to be properly answered. By 2050, the population of the world is estimated to reach nine billion people. This means that current food production rates will need to double to fulfill the increased demand. One way to increase production is by developing novel approaches to manage pests.
Our innovation
We developed a cutting-edge eco- and bio-degradable pesticide, to combat phytopathogens, using Pectobacterium as a model pathogen, and potato and cala lily as a model plants.
Advantages
The novel compounds were shown to act as an adjuvant, helping the plant's immune system to create a strong response and induce the production of many plants antimicrobials
The novel compounds also operate directly as antimicrobials
The novel compounds are degraded at the site of action and do not accumulate
Every new antimicrobial may employ different modes of action that also work synergistically against pathogens such as Escherichia coli and Pectobacterium carotovorum
The novel compounds may be formulated together to extend the range of targets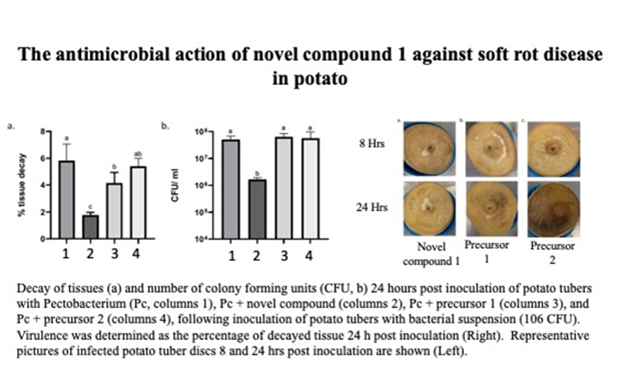 Opportunity
The researchers are looking for an industry partner to sponsor further research and to commercialize this technology.
Publications

Disalicylic Acid Provides Effective Control of Pectobacterium brasiliense